******************************************************************************
I will put this notice on my post from now on, every time that I copy a post from Facebook, so all of my readers will know that this is not my work, but that of someone else. This, like so many of my posts have, came from Facebook. This is from My Fridge Food.com recipes. The Photo by: Gimme Some Oven.
******************************************************************************
Breakfast Wrapped in A Potato
http://myfridgefood.com/recipes/breakfast/breakfast-potatoes/
BREAKFAST POTATOES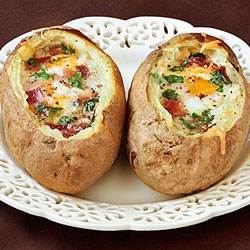 Photo by: Gimme Some Oven
Description
Bacon, Egg, and Cheese Hashbrown Bomb!
Details
| | | |
| --- | --- | --- |
| Cooking Time: | | 30 |
| Recipes Makes: | | 1 |
| Calories: | | 770 |
| Carbs: | | 65 |
| Fat: | | 41 |
| Protein: | | 36 |
1 large baked potato (russett or sweet)
1 Tbsp. butter
2 eggs
2 strips bacon, cooked and diced
2 Tbsp. shredded cheese
1 Tbsp. fresh parsley, chopped
salt and freshly ground black pepper
Directions
Lay the baked potato on its side, and use a knife to carefully cut off the top third of the potato. With a spoon, hollow out the middle of the potato to make a "bowl, leaving the potato as thick or thin as youd like. (Just remember, the more room you leave, the more room for eggs, bacon and cheese!)
Place 1/2 tablespoon of butter in the middle of each bowl. Then gently break an egg into each bowl, careful not to break the yolk. Top with bacon, cheese, parsley, and then season with salt and pepper.
Bake at 350 degrees F for 20-25 minutes, or until the egg whites are set. Serve immediately.
Submitted by GimmeSomeOven
Read more at http://myfridgefood.com/recipes/breakfast/breakfast-potatoes/#9mmQwd2xYJGbF73L.99